Discovering Norman Brown's Guitar Gear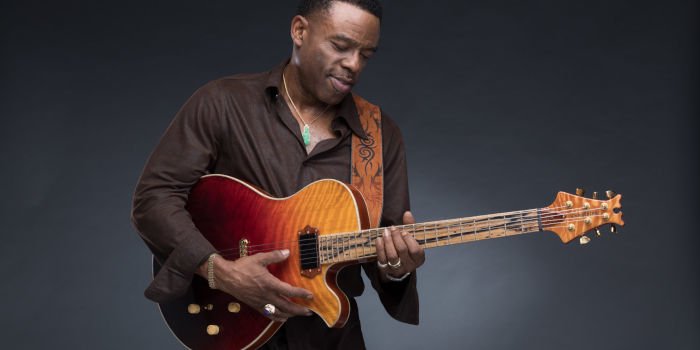 Norman Brown is known for his jazz solo career as much as his work as a part of the supergroup BWB [with Kirk Whalum and trumpeter Rick Braun]. While there isn't a ton of information about what gear he uses, I've tried to piece together Norman Brown's guitar gear.
As one of the world's greatest jazz guitar players, at the heart of Norman Brown's tone is a thick clean tone, thanks in part to his hollow body guitar. However, he often uses overdrive and a wah pedal to add spice and interest.
Come with me as we explore Norman Brown's guitar gear.
Guitars
Norman has played everything from standard George Benson signature Ibanez to his own line of Eastman guitars. He's currently playing a signature model from Singleton Guitars. It's pretty unique! Thanks to Mark Singleton for the information and the pictures.
Mark – "It is a complete hand carved Archtop with a figured Cedar top figured Mahogany back , Mahogany sides 5 pc.Mahogany/Maple neck Ziricote fingerbrd, Flamed maple binding custom hand turned knobs. This guitar is rich, full and phat with jazz tones. It plays effortlessly and one very big point – it does not feedback!
The guitar is midi with hexophonic pickups in the saddles to deliver acoustic guitar tones which can be played alone or blended with the custom design Singleton/Duncan magnetic pickup! Norman and I are both ecstatic about the outcome of this instrument."
Pedalboard
I found an interview where it says he was using a Crybaby Wah into a Line6 Pod Pro [in a rack]. There are a few photos of this setup online. So, that was his guitar rig at one point or another. Sadly, I can't date when he used this setup.
Recently, Norman has recorded a video for Xotic Pedals, which shows a few of them on a small pedal. Plus, there's a photo on his Facebook page, that leads me to believe he's now using a small pedalboard rather than the Line6 rack system.
On this board, there's a Fulltone Wah, Xotic EP, Xotic SP, Xotic SL, TC electronic mini polytune, and a line6 M9. From recent videos, he's also using a Shure wireless system, allowing him the freedom to move around the stage.
While this might not seem like a ton of pedals, they do give Norman options and a wide tonal pallet to pick from.
Amps
Known as a massive George Benson fan, Norman likes to use the Fender Hot Rod Deluxe and the Fender Blues DeVille Tweed. Although he has stated that an amp of choice is a solid state Polytone amp.
Recent videos show him using a Hot Rod Deluxe and a Mesa Boogie Mark IV amp. Like Benson, Norman seems to prefer a mono setup over using two amps in stereo.
Strings and picks
I found a Facebook post from 2014 on La Bella Strings' page that says Norman uses their 20PCM Electrics Stainless Steel Flat Wound – Custom Medium 12-52 Strings. These are quite heavy guitar strings that are ideal for jazz but little else.
Sadly, I couldn't find anything more recent or any information on what picks he uses.
Getting that Norman Brown guitar sound
This is where the fun begins! To me, at the heart of Norman's guitar sound is a compressed clean guitar sound. Sometimes he'll add a wah or thick distortion sound.
So how do you get this sound at home?
Firstly, if you have a jazz style semi-hollow or hollow-body guitar, then you're halfway there. If not, select your neck pickup, roll the tone control halfway done and pick lighter. You've got that jazzy sound happening already!
Next, add a compressor pedal – something like the MXR Dyna Comp. On the Dyna comp, keep the compression knob at 3/4 and adjust the level, so that it's present but not overpowering the natural guitar sound.
Add a splash of reverb to the clean compressed sound, and you're pretty close to a Norman Brown guitar sound!
Of course, you should have a wah and a distortion pedal around for those times you want to get a little crazy! Normal uses these colors sparingly, and to add a new element to the song.