Donner Triple Looper Pedal Review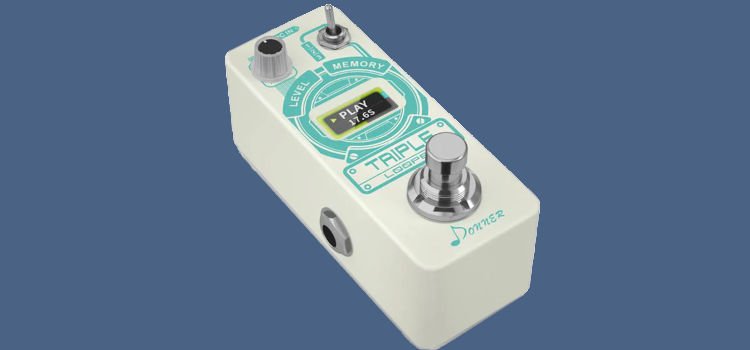 A note before we get started: the folks at Donner sent me the Donner Triple Looper Pedal and  Donner Harmonic Square Octave/Pitch Shifter Pedal to review. So while I got it for free, the following review is my honest opinion.
Buying a looper has been on my list since TC electronics launched the Ditto Looper in 2014. However, I never got around to buying one. So, when Donner got in touch a few months ago and offered me a chance to review the Triple Looper, I jumped!
For years, I had the AKAI headrush on my small gig pedalboard. But I mainly used it as a delay pedal than as a looper. The times I messed around with the looping function, were fun and inspiring.
So come with me as I explore the Donner Triple Looper Guitar Pedal. It's more than just a pedal to record ideas down as you can record unlimited overdubs and permanently store up to 3 ideas.
Save 15% by using the code ASHLEY on checkout!
Description
Donner is a fairly new entrance to the market yet offers some exciting guitar effect pedals and musical instruments in general.
As a Chinese manufacturer, they focus on producing budget-friendly items over wildly thrilling new designs. That said, this pedal does offer some unique features that we'll cover shortly.
I've known about Donner for years, but they recently popped up again thanks to Tomo Fujita, who I follow on Facebook.
As a humble guitarist, I'm nowhere near Tomo's god-like ability. But I don't let that fact affect me!
Build Quality: 9/10
Donner has invested plenty of time designing a rock-solid pedal. The Donner Triple Looper Guitar Pedal's case is powder-coated aluminum, finished in a cool off-white color with striking green colored details.
Due to the size, there isn't a battery compartment. But the power socket is on top, making it easy to connect. The jack sockets are screwed in, meaning they'll last longer.
The main dial and toggle switch feel rugged enough to withstand some abuse, but I wouldn't risk it! The footswitch is a momentary one, so feels a little weird at the start as there's no click sound when pressing it.
By far, the most interesting feature is the LCD screen in the center, which is responsible for several features that make this pedal super easy to use.
Overall, Donner has built their mini range to last and take years of abuse. Not that you should abuse them! Just that they are well-built pedals.
Controls: 8/10
It doesn't take a genius to figure out what the top two controls do! The knob controls the overall volume of the output. Once you've recorded a loop, there's no way to alter the volume of that recording in relation to other loops you create on top.
A toggle switch allows you to move between the three memory slots. These allow you to record and permanently keep loops or ideas without needing to write them down or use your phone to record them.
Pretty standard stuff. However, the main footswitch responds differently based on the number of times you hit it. Tap it once to record/overdub, twice to stop or hold it for a second, and it'll clear your loop. It does take a bit of time to get used to it.
A feature that makes the Donner Triple Looper different is the LCD screen. It shows you which mode the pedal is in (play, record, stop, clear), which is pretty cool. But that's not all.
The LCD has a track around the edge that shows you where in the loop you are. So, if you want to add an overdub that starts with the original, you don't need to guess. Just watch the track, and you'll see when it's coming up at the start of the original recording.
I'd recommend playing with Donner Triple Looper Guitar Pedal a few times at home before taking it out on a gig. Otherwise, it might go horribly wrong.
Sounds: 9/10
Before writing this Donner Triple Looper Guitar Pedal review, I spent a bit of time playing with it. I haven't used a looper pedal for years and wanted to experiment with one.
On the surface, it seems simple. You hit one button to record, the same one to play the loop and jam on top. Sadly, it's not that easy as you need fairly good timing and coordination. If you don't tap the footswitch in time, you'll get a gap in your loop.
There's no way to remove this gap, other than starting again. So, it does take a bit of time to get used to nailing the timing, so the recording loops perfectly.
That said, with up to 30 minutes of recording time per memory slot and unlimited overdubs, you can play for hours without changing the song!
It did take me a few attempts to learn how to use the footswitch correctly. It's easy to be too slow when double-tapping it, so it switches to record mode rather than stopping. Again, after a little while of playing with it, you get over this learning curve.
Having three different memory slots is very cool. I can imagine on a gig using them to store loops before going on stage, then recalling them with ease as needed.
I wouldn't need to forget to record a loop or struggle. I'd just select the right memory slot, adjust the volume control, and hit the footswitch.
Overall: Donner Triple Looper Guitar Pedal
Rating: 9/10
If you're looking for a highly versatile looper pedal, you should seriously consider buying the Donner Triple Looper Guitar Pedal. It's compact, affordable, and could be your secret weapon!
A few things make it unique. Firstly, the LCD screen. It's super useful as it clearly displays where you are within the loop, the mode the pedal is in, and counts (in seconds and milliseconds) the length of your recording.
Secondly, the total recording time available is very impressive. As you have 30 minutes per memory slot, you can record either one epically long loop or a shorter one with multiple overdubs. Very cool!
You will need to spend some time playing with it as using a looper is a skill. But one you can easily develop and use with great effect.
Overall, the Donner Triple Looper Guitar Pedal is an exciting compact pedal that will provide hours of fun. Whether you fancy yourself as the next Ed Sheeran, want to use it as a practice tool, or run prerecorded loops in a live show, this is the pedal for you.
Remember to use the code ASHLEY on checkout to save 15%!