Mateus Asato Guitar Gear
You might not know who Mateus Asato is or even singer/songwriter Tori Kelly, who he's out on the road with.
However, Pete Thorn recently said about him:
"He could be a Jeff Beck or Hendrix for the next generation – I believe he's that good. "
That's probably the best endorsement I've ever read! Plus, Mateus has appeared in an episode of Tim and Pete Guitar Show (Go watch it!!).
Background
Born in Brazil, Mateus' passion for guitars started at an early age. Aged 15, he entered a local guitar contest and created a lot of interest in his playing abilities thanks to his maturity and consistency on the guitar.
After constant practice and gigging with local small bands in Brazil, Mateus decided to follow his dreams and advance his education in the US at Musician Institute.
His influences travel from the most influential guitar players such as Eric Clapton, Jimmy Hendrix, Jeff Beck to new blistering names like Philip Sayce, Richie Kotzen and John Mayer. 
While currently on the road with super-star in-the-making Tori Kelly, Mateus is very active on social media including Facebook and Youtube.
He is also writing and producing his own music while inspiring guitarists through clinics and online courses.
Guitars
While well known for playing Suhr guitar, Mateus has a fine collection of guitars. His current main guitar is a Suhr Classic Antique in pink. This is a strat style guitar with a humbucker in the bridge position. 
He has a Suhr Classic T (telecaster style guitar) for funkier songs and a Suhr Classic Pro (another strat style). Sometimes, Mateus will use his Gibson Les Paul Supreme and a Taylor acoustic electric.
Pedals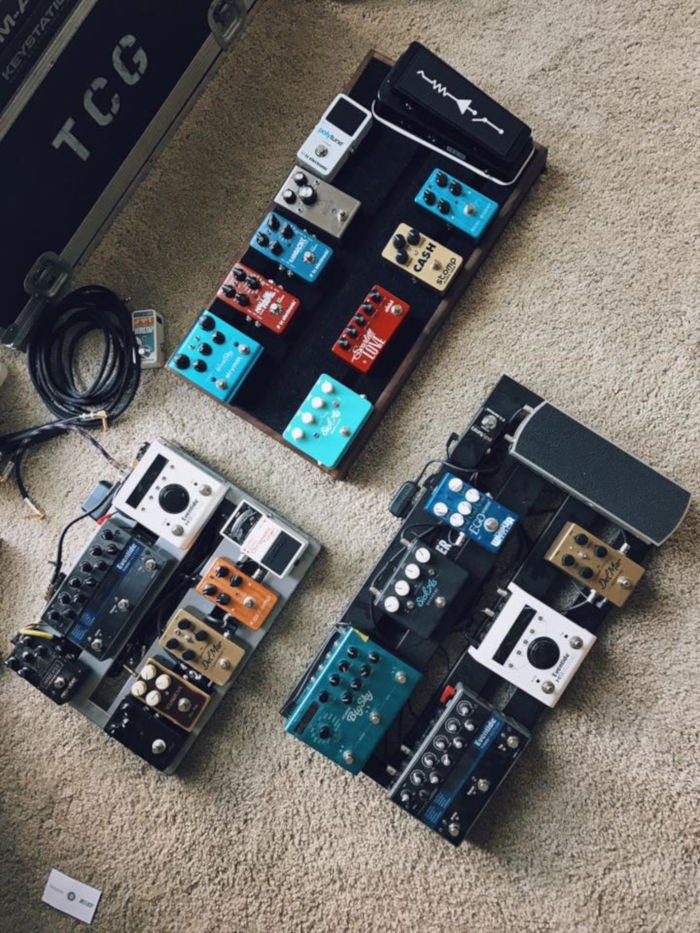 Moving on to Mateus' Pedaltrain pedalboard, it's full of high-end pedals but nothing that's really weird or super unique.
From the guitar, the signal runs into a TC Electronics Polytune mini, then into a Wampler Ego compressor. Next up are a couple of overdrive pedals from Bondi Effects. First is the Bondi Effects Del Mar Overdrive and then the Bondi Effects Sick As.
It looks like an Eventide H9 is next which feeds an Eventide Timefactor Delay and lastly a Strymon BigSky Reverberator. Again nothing out there in terms of pedal choices, just a good selection which covers everything you'll need on a pop gig.
Amps
As a Suhr endorsee, Mateus uses a Suhr Bagder 30 amp. He's also well known Bogner user with a Bogner Goldfinger 45 amp and a Bogner Duende 2×12 amp in his collection.
As there's no amp switcher or ABY on his pedalboard, he must be running his amps fairly clean. It does look like he's running in stereo, which is interesting.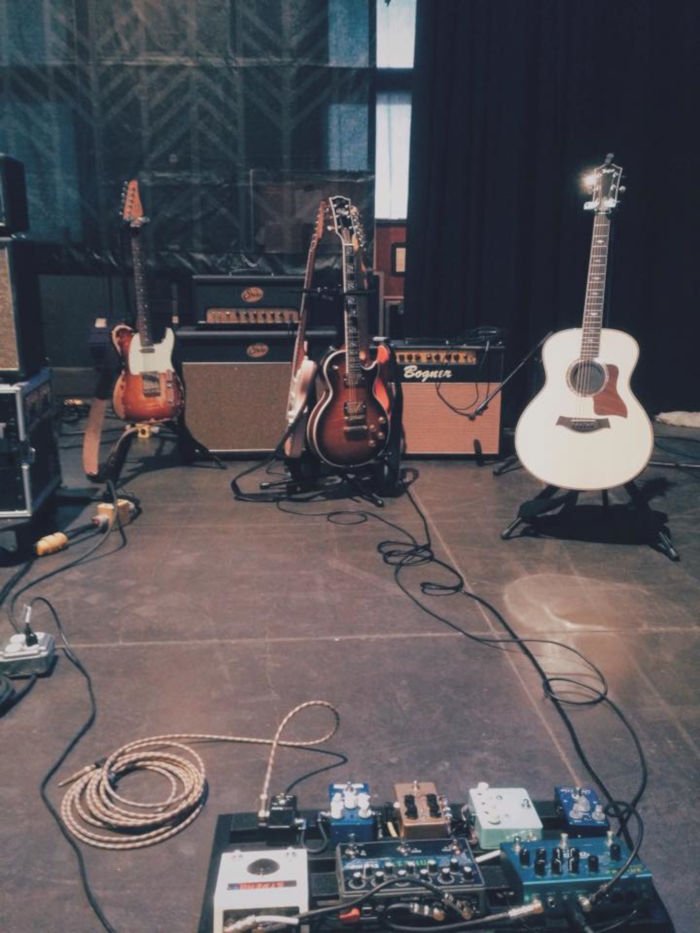 Getting that Mateus Asato Guitar Sound
His basic tone is a cleanish amp on the edge of break up, which pleasantly overdrives when dug into. Pedals are used to colour the guitar's sound rather than dramatically alter it.
Mateus clearly has spent a lot of time practising, jamming and trying to educate himself how to play better.
So, if you want to sound like him, start listening to Jeff Beck, John Mayer, Jimi Hendrix and keep watching his Youtube channel!