Darrel Higham Guitar Gear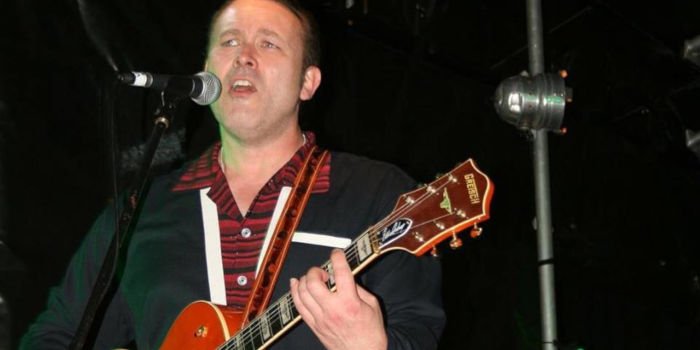 Darrel Higham is known as one of the best Rockabilly guitarist alive today – if not of all time. If you haven't heard him, there are loads of clips on YouTube. He's also constantly touring.
I couldn't find that much about what Darrel is using guitar-wise. So, that's why I've put this together. While his rig may be simple, his playing style is anything but!
Guitars
I discovered Darrel in around 2006 when I read an interview with him about his then signature guitar the Peavey Rockingham. I later acquired one and it's a really great inexpensive guitar. He still has a few Rockingham guitars in his collection.
Among his guitar collection is a Gibson ES-5 Switchmaster guitar with 3 P90 pickups, a Gretsch White Falcon guitar, and a Gibson ES-295.
He also has a Gretsch 6120, which is the same model that Eddie Cochran used. Eddie is one of his key influences.
In general, Darrel likes changed the pick-ups for to a P-90 pickup in the neck position, a DeArmond pickup in the bridge, and a fixed arm Bigsby.
Pedals
Live, the pedalboard only has three pedals on it. There are two Zoom G2, both are set up with the same presets, which includes a reverb sound and a tremolo sound. He only uses one, with the other being a backup. Also, he uses the tuner on the G2.
The third pedal is a Danelectro Reel Echo, which is used for a little slapback delay on a few numbers. The three pedals are powered by T-rex Fuel Tank.
Lastly, on top of the amp is a Electro Harmonix Hum Debugger, which keeps hum to a minimum.
Amps
Darrel has used a Peavey Delta Blues amp with a 15-inch speaker for many years. The 15-inch speaker brings the life out of the DeArmond and P-90 pickups a bit more – especially the DeArmond, which can be quite bright.
He also has a new reissue Watkins Dominator in custom red and white, as opposed to the traditional blue and white. An original Marshall Bluesbreaker distortion pedal is used to drive the Watkins into a slightly overdriven tone.
Misc
For strings, Ernie Ball 10-46 with a wound 18 on the third string and the usual 2nd string is replaced with a 12. It looks like Darrel uses custom printed medium picks.
Get that Darrel Higham guitar sound
I would describe his tone as slightly broken up tube sound which fairly bright with a dash of reverb.
For you to achieve the tone, you'll need a semi-hollow body guitar. An amp which is set fairly clean with a hint of breakup but not full on distortion. You'll then want to add some reverb and have a tremolo pedal ready for slower tunes.
The other big component of his sound is hybrid picking, which Darrel does in an interesting way. He uses a flat pick rather than a thumb pick and fingers.
Lastly, you'll need to work on using a Bigsby to accent notes and chords. Its all may sound simple, but all in all, Darrel Higham is a complex player with tones to match.