Allen Hinds Guitar Gear
I've been following Allen Hinds for years, after discovering him through Xotic, almost 10 years ago! I love his playing and tone.
If you don't know Allen, then he's a well-respected session guitarist, teacher and solo artists. He attended the Berklee College of Music and also studied at the Musicians Institute, where he is now a member of its teaching staff.
In addition to his 5 records as a solo artist, Allen Hinds has played with Natalie Cole, Eric Marienthal, Marc Antoine, Gino Vannelli and Randy Crawford, amongst others.
So let's run down his rig. My thanks to goes Xotic who recently posted the photos of Allen rig on their FaceBook page.
Guitars
There's a ton of videos of Allen playing many different guitars from Les Pauls, Strats and ES335s. He always sounds the same!
However, it looks like Allen has returned to playing an Xotic Stratocaster style guitar in light blue with a humbucker in the bridge. As well as a blonde Fender Telecaster, which looks stock.
Pedals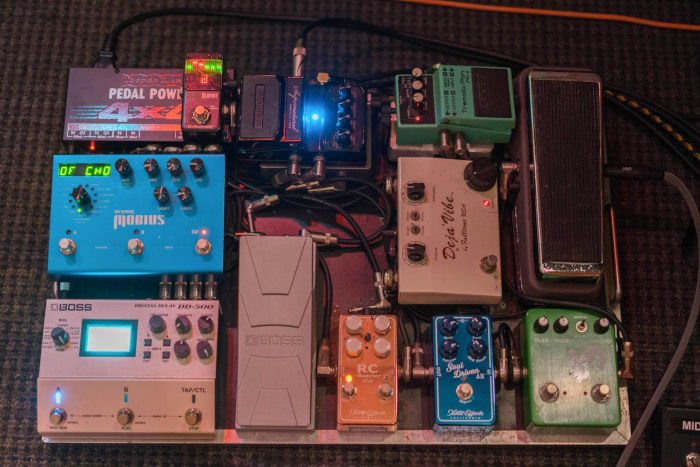 On the floor, there's a real mix of high end and mass produced pedals. It looks like the chain runs from a Budda Wah, into a JOYO Voodoo Octave. Next up is his custom limited edition Xotic Soul Drive, then into another custom line Xotic pedal, namely the RC booster SH.
It's hard to decipher what comes next, but it's likely the Fulltone Deja vibe pedal. Next up is the Boss Volume pedal with TC Electronic Poly Tune Mini in the tuner out.
Next is a vintage Boss Tremolo/Pan PN-2 pedal, which is also being used as a stereo split. Then running in stereo into the Strymon Mobius pedal and Boss DD-500. A DigiTech Supernatural Ambient Stereo Reverb finished the chain.
A Voodoo Labs 4 x 4 power supply powers the whole thing.
Amps
Like with guitars, I've seen clips of Allen playing through all kinds of amp makes. From old Fender Deluxes to Divivdeby13, Bogners and many others.
It looks like he is currently using a Redplate Amps, which is a brand unknown to me. He's playing a custom amp called the Blackline, which is a 1 x 12 combo. The clean channel is Blackface inspired and the overdrive channel is something they have created for the amp.
Misc
It looks like Allen is using custom-built cables throughout his rig. I couldn't find anything out about the exact strings he's using but it's likely, he's using 9s or 10s.
For picks, it seems that Allen is using medium / .75 plectrums.
Get that Allen Hinds Guitar Sound
Allen has great touch, which is quite hard to replicate and is the reason he sound so good. Most of his playing is done with a smooth overdrive sound which isn't too bright or too mid-rangey or overly compressed. I believe that's why he loves the Xotic pedals.
In order to copy his feel, work on your right hand's attach, trying not to over pick but just brush the strings lightly either with a pick or with fingers. Right-hand control can be tricky and requires a lot of work.
In terms of left hand, Allen is known for his legato style. So in order to faithfully recreate his sound, you'll also need to work on your hammers-ons and pull-offs, while ensuring there's no real volume difference between a plucked note and legato phrase.