The $1k Dream Guitar Rig Challenge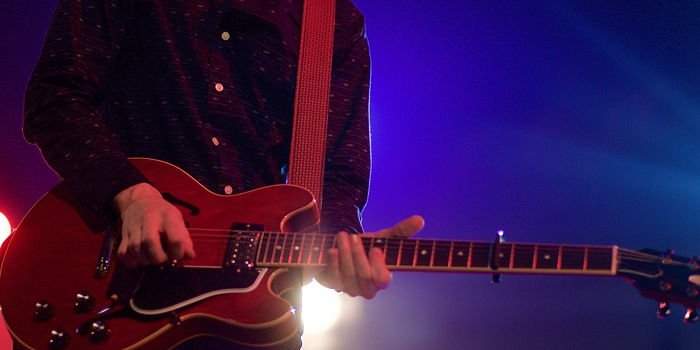 I'd thought I would have a bit of fun and try to build a new dream guitar rig on a limited budget. Of course, this is just for laughs, but you should try it too!
Why? You'll start to think about why you use certain guitar gear, such as having multiple overdrive pedals, when you could use the guitar's controls to add/remove distortion. Or, why you've chained your pedalboard together in that way.
The more you think about your gear, the more you'll try to use it better, which will make you a better guitar player!
So let's see how far my $1000 dream guitar rig budget stretches and what we can purchase for this small amount! Let's shop!
Finding A Solid Yet Affordable Guitar
Firstly, when researching the market for my posts on electric guitars under $150, I was really surprised by the number of great cheap guitars. Sure, they'll need some tweaking and a setup, but the choice is far beyond what I had when starting out.
That said for $300, I found this Gretsch G5426 Jet Club. As you'll know I have a modified Pro Jet (rewired to Duo Jet specs). So I know these guitars are well built, play well, and are just good budget guitars.
At 30% of my dream guitar rig budget, this guitar should play well and the silver sparkle color is just neat! The guitar doesn't come with a case, I'll need to spend another $20 on Fender soft case.
Building A Pedalboard That Versatile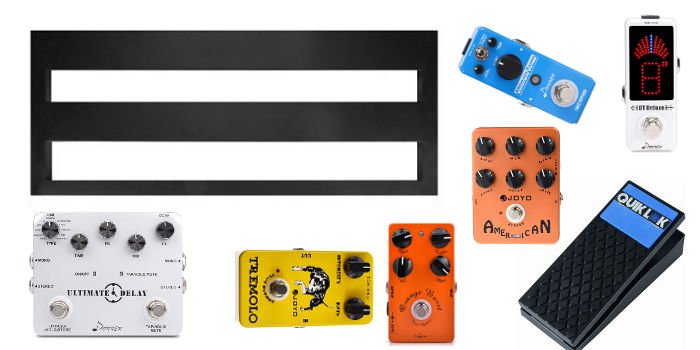 Now, this is where the fun begins! The aim is to see if I can rebuild my current gigging pedalboard, albeit with cheaper pedals.
Gain pedals
So the chain will start with Donner Compressor Pedal, which looks like a Ross-style comp and is priced $37.
For low gain sounds, I'm thinking of using a Caline CP-18 Orange Overdrive Pedal, which is a Timmy inspired pedal. And at $30 is a bargain! And for heavier overdrive sounds, a Joyo JF-14 American Sound Pedal (price $37) should do the trick.
After the gain based effect, I like a Volume pedal. Normally, I'd use a Boss or even a Fender volume pedal. Both are cast metal and built to withstand abuse. However, we're on a budget! So I'll be using a plastic Quik Lok VP-2611 ($24). But this would be the first item I'd replace!
Tuner
As I don't have the budget for a Boss TU-3 tuner, a $30 Donner DT Deluxe Guitar Tuner Pedal will have to do. Of course, if I was putting this together for real, I'd try to find a Boss pedal tuner on eBay or reverb.
Modulation pedals
After the tuner, I'd go into a Joyo JF-09 Tremolo Guitar Pedal as my sole modulation pedal. And at $30, you can't go wrong!
Delays!
The final pedal on the board would be some sort of delay. I spent quite a bit of time looking for an affordable delay with a tap tempo. The only decent one I could find was the Donner Ultimate Delay. It has 11 delay modes, stereo in/out, tap tempo, and a built-in looper. For $80, it's a steal.
On delay pedals, I have to say having a tap tempo feature that requires two foot-switches to be tapped at once to tap in the tempo, misses the point entirely.
Pedalboard
Donner also has a lightweight frame style pedalboard ($58) which looks like a good fit for my board. Plus, I should have lots of space left to grow the pedal chain. You know I'd keep adding pedals for as long as I could squeeze another one on the board!
Amps
While I knew I could find a good guitar and some killer pedals, finding a suitable amplifier proved harder. There's little real choice at the budget end of the market, especially for tube amps.
Sure, you can get el cheapo solid states, a modeling amp with a tube preamp, or even 5-watt tube amps. However, I was looking for a tube amp in the 15 to 20 watts range. Something gig-able with all tubes, simple controls, and affordable.
The best tube amp I could find for my dream guitar rig was the Orange Micro Terror Stack. Firstly, it looks so dam cool! Plus, it's 20 watts, all tube, and only has three controls. It's also priced under $250, which makes it a steal!
Extras
So that's the majority of my dream guitar rig. I've got a new guitar, amp, and pedalboard. Now, I need a way to power the pedalboard and some cables to hook it all together.
Instrument cables
I'm going to use a 10-foot cable at each end. The best seems to be a $15 Fender Custom Shop Performance Series Cable. So that's from the guitar to the pedalboard and out from the pedalboard to the amp. Nice!
Pedal power
Powering the pedalboard is really simple. I'm going to use a Truetone 1 Spot Combo Pack, which at $26 is affordable and perfect for powering my new pedalboard.
Patch cables
Now, this is where it gets tricky. If you've been counting, I've got 8 pedals on the board, which means I need 7 patch cables. While there are a few solderless patch cable systems on the market, I'd typically use George L's. However, the price of them would blow what remains of the budget.
The other thing I discovered doing the research for this post is most patch cable kits have 10 feet of cable and 10 plugs. The cost of buying the extra 4 plugs is 2/3 of the cost of the complete kit. It's sad companies feel they can overcharge for something so simple and basic.
So instead of buying a solderless patch cable system, I'd purchase 2 sets of Donner Guitar Patch Cables (15 cm long and comes as a 3 Pack), priced at $15 each. And a pack the 30cm Donner Guitar Patch Cables, priced at $18.00, again comes as a set of 3.
Totals
Guitar: $330
Pedals: $326
Amp: $250
Extras: $104
TOTAL: $1010
So, the total for my dream guitar rig is just over budget and doesn't include any shipping! However, for what I would end up with, the tiny overspend is completely fine! What do you think of my new guitar rig?!