Best Electric Guitar Under $200 [for 2019]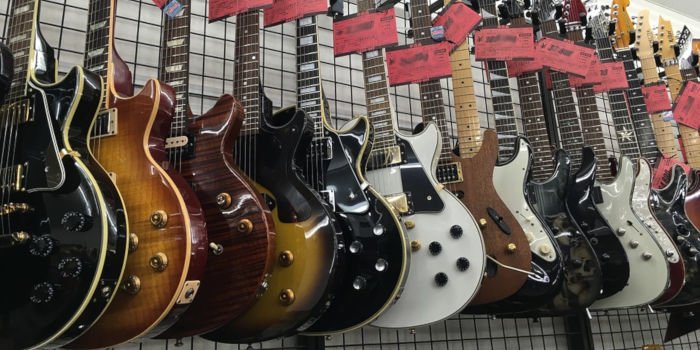 While many of us think we have to invest in expensive gear in order to play well or sound good. Modern manufacturing means that cheap doesn't always suck!
To prove this, here are 5 of the best electric guitars under $200 currently on the market in 2019.
All of these great for all levels of players, from beginners to advanced.
Also, these guitars are solid enough for gigs, which is good news if you don't want to damage your more expensive guitars.
General Tips
Invest in better cables
If you end up buying a package deal, then you'll want to change out the cables for something that won't break after a few minutes of use.
I recommend investing in something like a 10 ft / 3m Fender Performance Series Instrument Cable which is affordable and will survive years of abuse.
Guitar set-up
For the price, your paying there has to be a catch? right? Sort of. Most of the guitars should play ok out of the box, however, all will need some adjusting in order to get the best of out the guitar.
What I mean is, it's likely, that the strings will be a mile away from the fretboard. This distance can be lowered and therefore improve how the guitar plays.
Either you have to find someone who knows what they're doing, like a professional tech or you can try making small adjustments yourself. There are two things to change.
The first is the bridge, you can raise and lower this without having to remove strings.
The second is the truss rod, which is usually hidden and may require a few adjustments to get it right.
Potential upgrades
You can potentially upgrade most things on a guitar, from the bridge to the tuners and everything in between.
The three most common electric guitar upgrades are to change the pickups, upgrade the tuners and have a local tech cut a custom nut.
Work on your playing
The best way to get any guitar to sound better is to practice more. Work on your timing, tone and touch. I know this isn't as sexy as new guitars, but if you work on your playing, then the guitar starts to matter less.
If you're stuck for ideas, my blog has tons of guitar practice tips and I've released nearly 30 Guitar eBooks as well.
Epiphone Les Paul SPECIAL-II
This Epiphone Les Paul SPECIAL-II might be regarded as a beginners guitar without many features. I've played these guitars and once set-up correctly, they play well and sound great.
Sure you don't have control over both pickups or even a tone pot for each one, but you do have solid guitar which is built to last.
Featuring a mahogany body and bolt-on neck, Epiphone Les Paul SPECIAL-II has a 22 fret neck with rosewood fingerboard.
The electronics and hardware are good quality too, with 700T/650R open-coil humbucker pickups, a LockTone Tune-O-Matic bridge and stopbar tailpiece. With a stopbar tailpiece, strings are much easier to change.
Price: $199.00
Squier by Fender Affinity Series Stratocaster HSS Electric Guitar
No list would be complete without a Squier. I still recommend buying a Squier starter kit if you're just getting going (just treat yourself to a decent cable!).
Unlike a traditional Stratocaster, this Squier features 2 single-coil and humbucker pickups. Other than this different pickup configuration, the guitar is a classic.
Starting the classic "large" headstock. The 6 chrome tuners are well built and will keep the strings tuned. The 21-fret rosewood fingerboard sits atop a "C"-shaped maple neck.
The neck and body are joined by 4 large screws. The body features a rear contour which makes it easier to play.
While the pickups are slightly different than the traditional layout, the controls are pretty standard. There is a volume control, 2 tone controls, and 5-way switch.
The bridge features a tremolo arm and adjustable saddles. The strings can be easily fed from the rear.
Price: $199.99
Sawtooth ST-ET-SGRW Electric Guitar
Next up, is a telecaster style electric. Tele's are a current favourite of mine and I prefer them over Strats. They got the first electric right, the first time!
Anyway, the Sawtooth ST-ET-SGRW Electric Guitar is finished in a Surf Green with Aged White Pickguard which gives it a vintage look. While unlike the SX above, this is not a package guitar, it does comes with some nice extras. These include 15 picks, case, headstock tuner and strap.
I think we should all own a Tele style guitar at one point or another in our playing career and this Sawtooth guitar is a great place to start.
Price: $119.69
Ibanez GRX20ZJB Jewel Blue Electric Guitar
This guitar is simply stunning! And while you can clearly see inspiration has been drawn from the Stratocaster, the Ibanez GRX20ZJB Electric Guitar in Jewel Blue takes this to the next level.
Ibanez has packed this guitar full of expensive features, usually found on their high-end guitars. However, the price is affordable and provides you with a way to own an Ibanez without having to mortgage the house!
Let's take a look at the FAT-6 Tremolo Bridge. This has been designed to hold the guitar perfectly in tune while allowing you to get maximum dive bombs!
The custom humbucker pickups deliver a full-fat rock tone. This guitar blends a classically inspired design with modern features to create a guitar most of us would want to own.
Price: $149.99
ESP LTD F10 Electric Guitar with Gig Bag
The ESP LTD F10 Electric Guitar is the most unique on our list. You don't need to be a metal player to enjoy the guitar. But it does help!
The Rosewood fretboard has 24 frets and uses custom LTD tuners and nut. The neck is bolt on to the body.
Finished in a black, the aggressively angled body is designed for hard rock and metal players. The iconic design is matched by the pickups.
In the neck position, there is a single-coil ESP Designed LSH-100N. Whereas a humbucking LH-100B pickup is fitted in the bridge position. This means you have access to a huge range of tones.
In terms of controls, you have a 3-way switch, a volume knob and tone knob.
In addition to the guitar, the kit includes a gig bag. This will protect your guitar when taking the F-10 to lessons and to jams at friends' houses
ESP have priced the pack specifically to appeal to beginning guitarists.
Price: $199.99
So, What is the best electric guitar under $200?
While I can't tell you what is the best electric guitar under $200 for you,  we've explored a good range of guitars. Each has a different look and features. All are available on Amazon.
Luckily, there's now a range of inexpensive guitars to choose from, especially when compared to 15 years ago when you could only buy Strat style copies!
Please leave a comment below with issue or question you have choosing your first guitar. I'll do my best to help!