Guitar Gear Update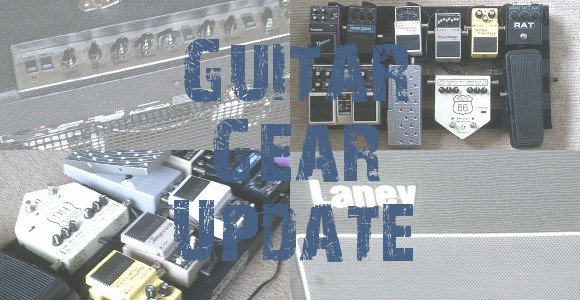 Well, we're nearly half way through the year and so it's time for another guitar gear update!
I started the year (well, ended last year) by selling about 4 pedals, 1 guitar and 1 amp. I resized my collection to fit the types of work I had coming up in 2014.
Secret Guitar Project
Over the next few months, I'm planning a (not so) secret guitar project. I'm going to build a telecaster style guitar from a kit. The plan is to upgrade the electronics, hardware, tunes, bridge etc.
I have a friend who has his own workshop, so he'll be doing the lion's share of the work. Stay tuned, you'll see it here first!
Unchanged Guitar Gear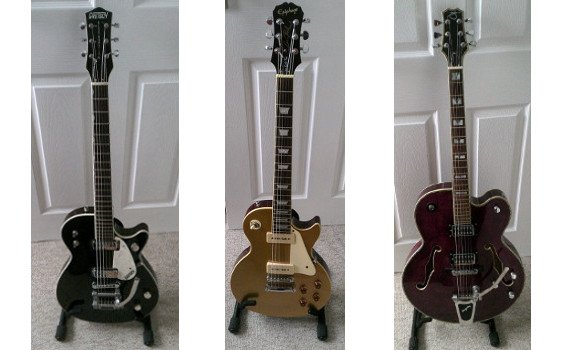 The first major item is Guitars, no change there. Still have the Epiphone Les Paul Goldtop, Gretsch Duo Jet and the Peavey Rockingham – Loving them all! I can cover most styles with these three, so there's no need for change.
I'm still testing out the Laney VC-30, and still not 100% convinced with this amp. It's far to loud to use at home, even when barely on, however, I don't feel it's loud enough for some gigs. As you saw last week in the promotion video, the drummer is LOUD and so I need to be able to compete. Of course, in a good way.
Other than that, it's a great amp for a clear and fat clean tone. For the moment, the Laney is pending some gigs where it can be driven hard/loud and I can properly evaluate it.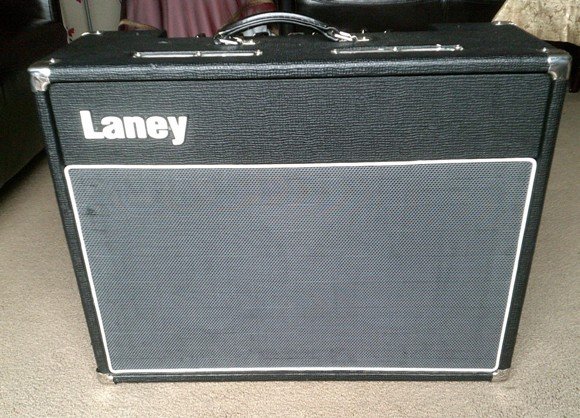 New Guitar Gear
Cables
Let's start with something that isn't really new, but kinda is. I've decided to change all my cables to George L's. I'm changing to improve fault/repair rate, ease of construction and because they sound better than the cables I've build over the years.
As luck would have I stumbled upon a guy selling used George L's jacks on ebay for half the normal price. I ordered 4 before really thinking. Of course, I was a little nervous that they wouldn't be usable or in a good shape. I couldn't have been wrong. They are like brand new, and in fact if they hadn't been advertised as used, I sure I wouldn't be able to tell.
I now need to buy some George L's cable and strain relief jackets, but I've saved quite a bit of money this way, so far.
Fx Pedals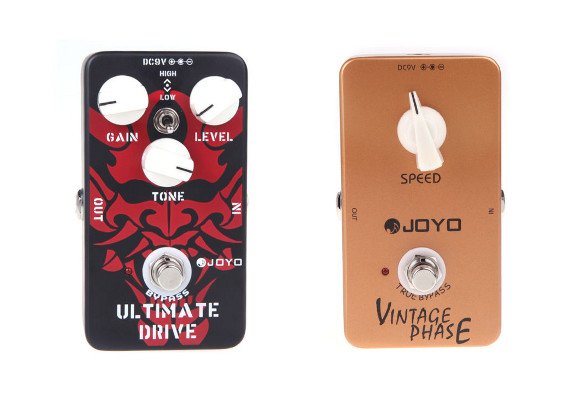 Back in January, I purchased 2 new Joyo Pedals. One is reported to be a clone of an OCD pedal [JOYO Ultimate Drive]. The other is a clone of a phase 90 [JOYO Vintage Phase]. Both are great for the money (about 35 bucks a piece or around £25). I have even used the phase on the Video and actually sounds better to me that the MXR phase 90 I had and sold last year.
I was hoping to get the phase pedal on my main pedal board – still need to figure out how to get enough spare on it, in order to enable me to mount it – Guitarist problems! One of the ways, I was going to try, is to buy a micro guitar tuner pedal. That should give me the space to fit another pedal on the board – as I just need to see the tuner and not be able to switch it off/on.
Alas, if it was only that simple! It was all going to plan until I saw a brand new Planet Waves Tru-Strobe pedal tuner going on ebay for next to nothing. I caved and brought it – not bad for half the usually retail price!
Just quickly on the Planet Waves Tru-Strobe tuner. It is more accurate than the Boss TU-2 (I have 2), it is far superior to the Korg Pitch Black, which refused to work with my electro-acoustic. It also has a larger viewing window than the Boss, which makes it easier to see on stage. A small problem with the Planet Waves Tru-Strobe tuner, is that it doesn't have a flat bottom, and can't be easily mounted on a pedal board.
So I've now have a TU-2 on each board and I'm using the Planet Waves Tru-Strobe tuner for set ups (I've used it to intonate all my guitars using it and they all sound more in tune), for teaching and for grab and go gigs (main acoustic stuff).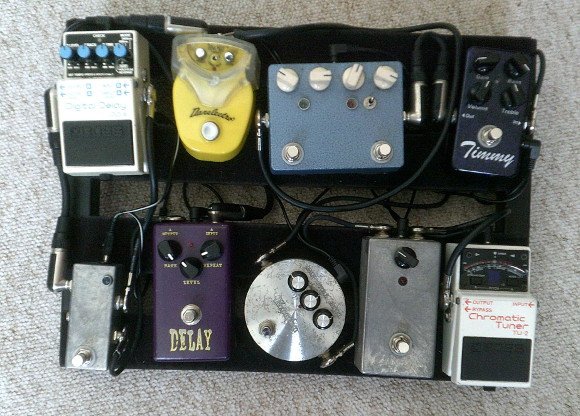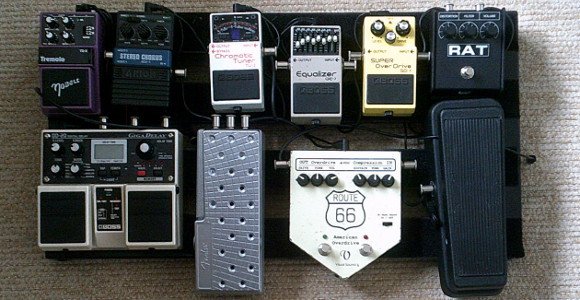 Wanted Gear
Over the weekend, my Boss DD-6 was sold. It's been with me over 10 years, which is kinda of scary to admit that! It is a great pedal, but it wasn't what I wanted any more. I needed a delay pedal with external tap tempo, which could give me either 1/8 notes or dotted 1/8. Oh, yes and is simple to use – no menus!
Up until now the DD-6 had been running in a true bypass loop, so that it could be run in tap tempo mode. This wasn't the simplest way to do things – and so it was sold! I'm always trying to simplify, there's less problems that way.
It will be replaced shortly (before I have to use it on gigs!) it with something like Boss DD-5 or DD-7 (with tap tempo pedal), another Boss DD-20 (which would be overkill!) or maybe something like a Akai Headrush.
The headrush has tap tempo (2nd foot switch), a super long delay time (23 seconds),  and can be easily switched to looper function, which would be cool to use on a gig. Plus they are fairly cheap and easy to obtain.
I might, however go for something from TC Electronics. Only time will tell, but you'll be the first people to find out!
If I don't pull off the Tele project. I'll try and buy some sort of a 335 (either an Epiphone or similarly well built copy). I'm very excited by the prospect of building a guitar from scratch.
Overall
I'm happy with my guitar tone, and getting happier with my guitar playing everyday. Both are, of course, a journey, not a destination. Most of my guitar gear are easily purchased and are fairly cheap too. I encourage you to work on your playing not so much on your guitar gear (too much!), even with really crap gear a great guitarist will still sound good!
Well, that's my gear update – what have you changed in your set-up lately?